MAIN PAGE
IN PROGRESS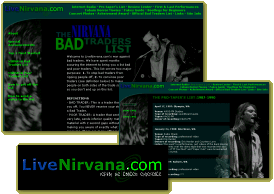 LiveNirvana.com
This is a bootleg trader's resource that I am designing as it's owners create the content. Right now we're about half done. The colors and textures are meant to invoke the concert experience and feel familliar to Nirvana bootleg traders.
Working with a brand new site, as well as handling large amounts of infomation has been a valuable experience.
When launched, the site will be availible at http://www.livenirvana.com.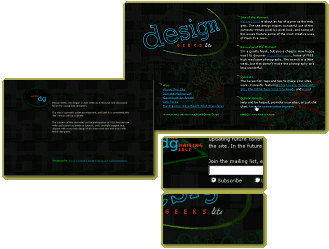 Design Geeks
Run by me, Design Geeks is a resource and discussion forum for young web designers. The site's design uses CSS layers of transparent gifs to create a sense of depth and kinetic space.
The site can be seen, in an unfinished 'lite' state, at http://designgeeks.surecity.com.